Looking for better email marketing?
What about CRM and marketing automation?
Between EmailGreen & GreenRope - we have the solution you need
Whether you are looking for a basic CRM and email marketing platform or a full-featured sales, marketing, and customer service solution, we can help. GreenRope offers users an all-in-one approach to business management, giving you the most powerful features and capabilities. EmailGreen simplifies your tech stack with email marketing, basic CRM, surveys, templates, and more.
Schedule a Live Demo of GreenRope
Which solution is right for you?
Both GreenRope and EmailGreen offer users powerful and dependable software
Are you looking for simple email marketing and CRM? If so, EmailGreen might be right for you. Are you looking for more marketing automation, customer service, & more? If so, GreenRope is the right way to go! We have a solution for every stage of your business, no matter what you are looking for.
Get Your Free Demo
Everything you need - all in one CRM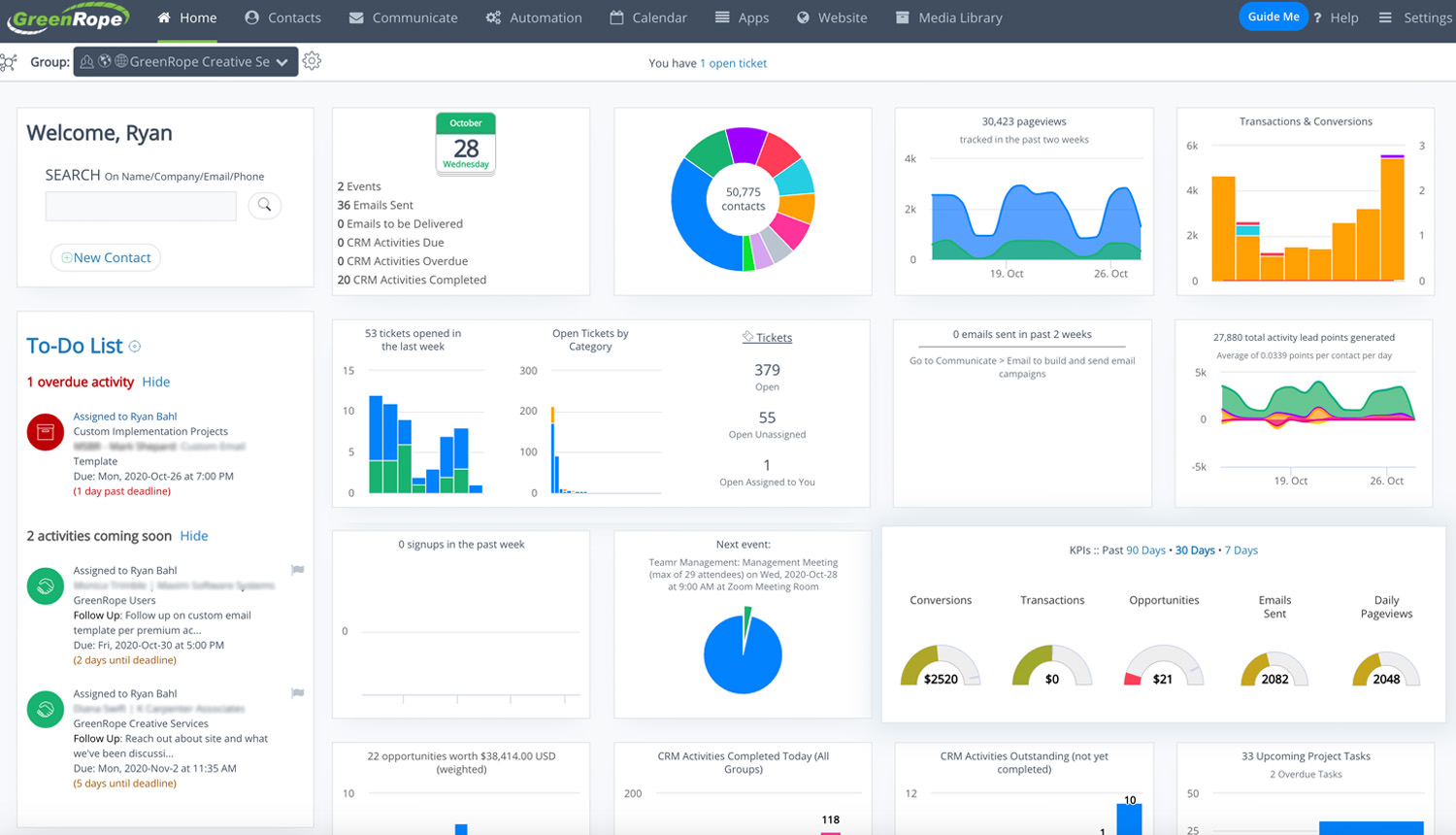 highlighted feature
Complete Visibility
Never miss a beat with real time visibility into everything that's happening in your business. From follow ups to email clicks, website visits, conversions, and more - everything is available to you all in one place.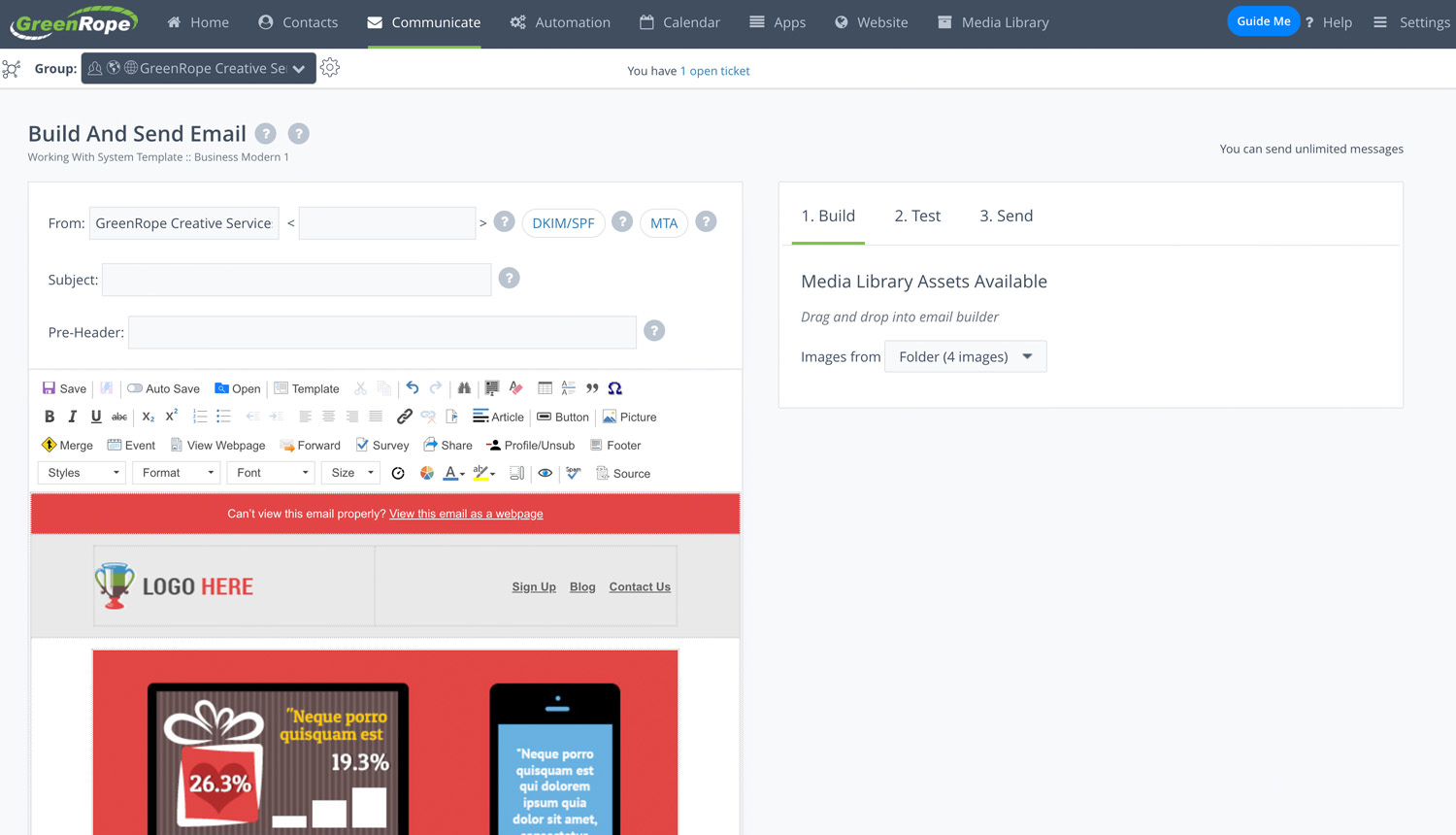 Marketing
Turbocharge your marketing efforts with our full suite of tools. Create winning customer journeys with our drag-and-drop customer mapping tool. Increase awareness, generate more leads, and inspire engagement that converts leads into forever customers.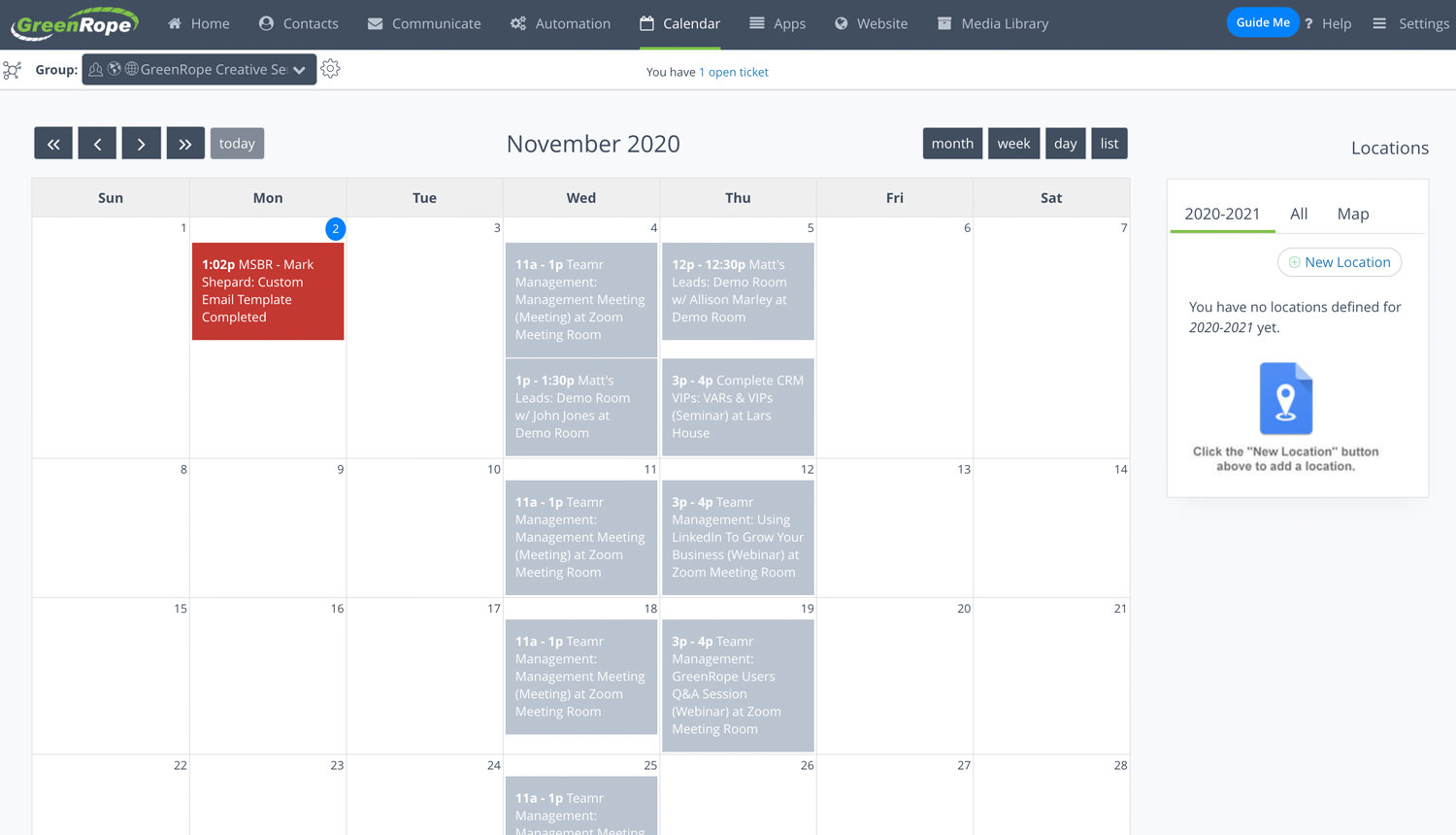 Operations
From customer service to project management, event management and beyond, GreenRope® has all the tools a business needs to successfully manage every piece of the puzzle. No need for extra third-party software, all your operations tools are available in one consolidated platform.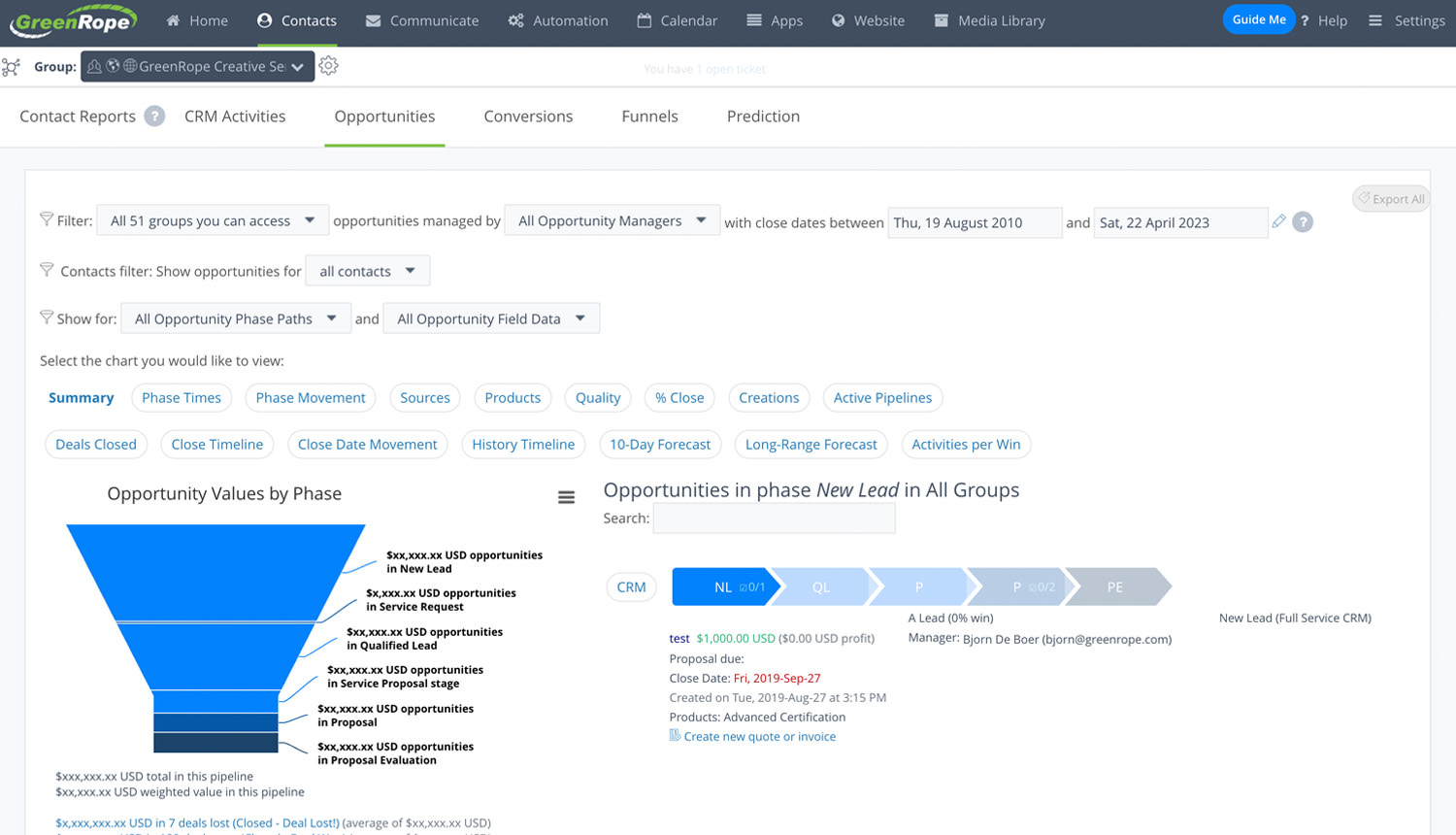 Sales
Effectively manage your pipeline and track every touch point with your leads and customers. Never miss a follow up or a chance to drive conversions. GreenRope® acts as your second brain, helping you stay on top of your leads and clients and simplifying the way you work everyday.
Two Amazing Solutions
What you get with EmailGreen
EmailGreen gives you a simple way to connect and engage your leads and customers.
With over 99.9% inboxing, our email marketing software is proven & dependable
Email Marketing & Tracking
Our email marketing solution is powerful, easy-to-use, and built for small businesses like yours. Build professional emails from scratch or from one of our templates, use data to segment your campaigns, and track your efforts with in-depth reporting.
CRM
You can't just have email marketing without CRM. Our simplified CRM allows you to manage your contacts, store valuable data, and keep track of all of your relationships, no matter where they are in your sales funnel.
Signup Forms & Landing Pages
Build landing pages or simply use our signup forms on your website to gather contact information and automatically add them to your email lists.
Surveys, Event Management, & More
In addition to email marketing and CRM, EmailGreen offers A/B testing, surveys, event management, and social media features. We deliver A LOT of value in a perfectly simple little package.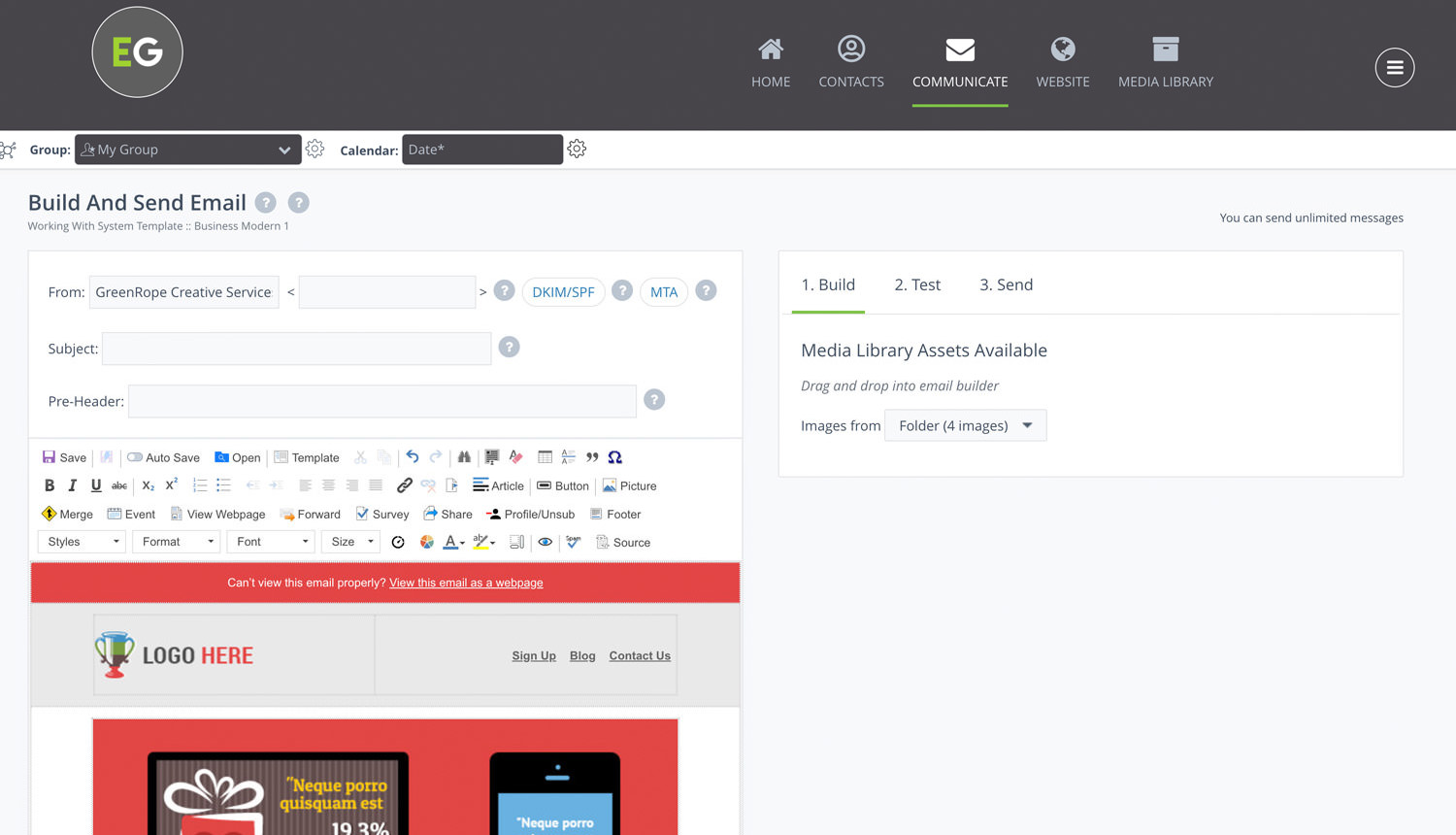 Average 4.9 / 5 support rating
"EmailGreen represents a great option to have an excellent administration of commercial email, and not only that, it is also a CRM, which represents one of the guarantees of success for a company."
- Joliz D. / G2 Review
---
EmailGreen Team,
Doing great since 2017
GreenRope or EmailGreen
| Feature | GreenRope | EmailGreen |
| --- | --- | --- |
| Pricing (5,000 Contacts) | $299 | $109/month |
| 24/7 Support | Included | $50/month |
| Users | Unlimited | $10/month per user |
| Drag-drop marketing automation | | |
| Complete CRM | | |
| Landing Page & Builder | | |
| Surveys | | $10/month |
| Project Management | | $25/month |
| Knowledge Management | | $10/month |
| Event Management | | |
| Support Ticketing | | $25/month |
| Signup Forms | | |
| Booking Calendar | | |
| Opportunity Management | | |
| Digital Document Signing | | |
| Campaign Optimizer | | |
| SMS/MMS/Voice | | |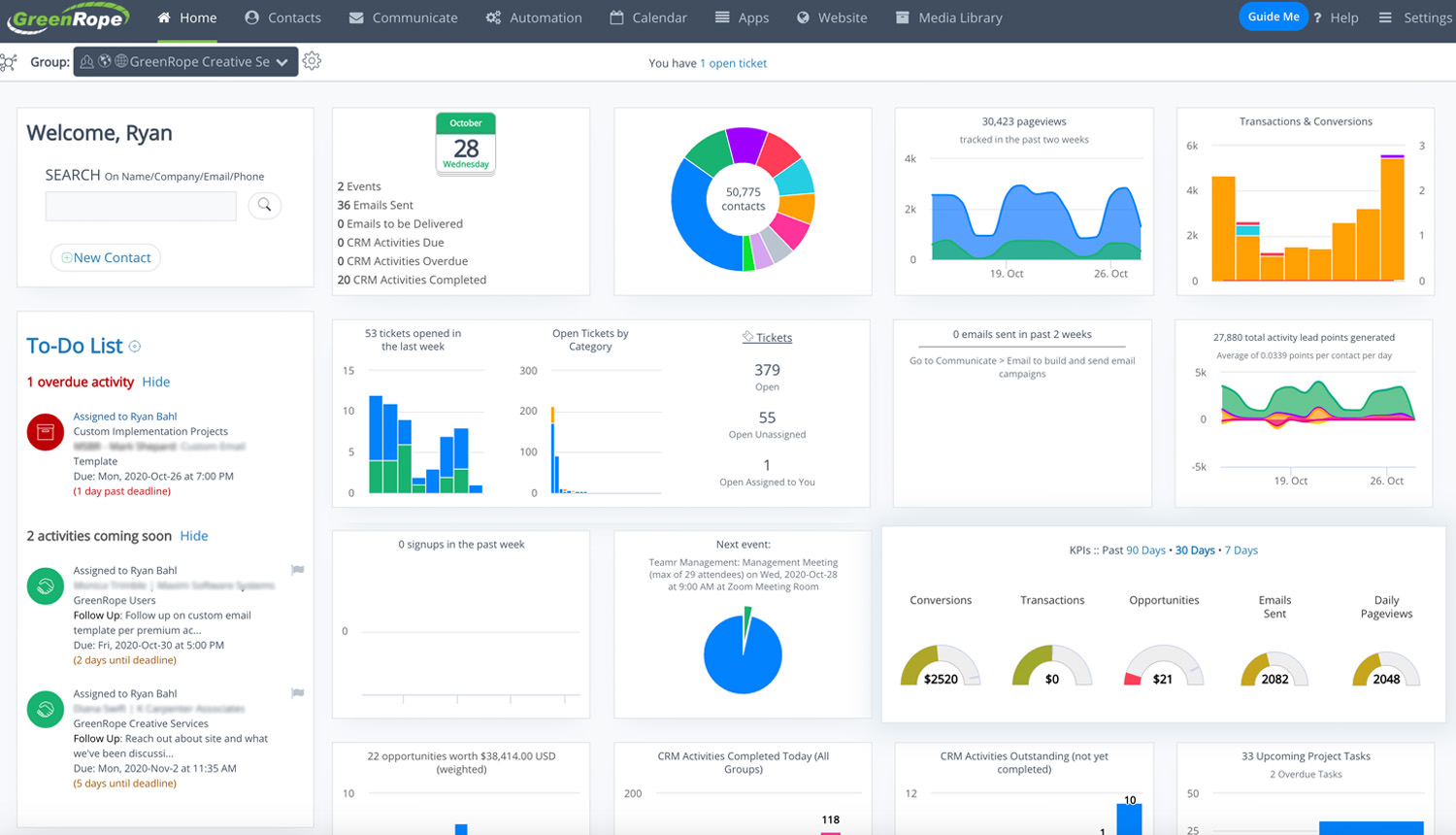 Mobile app included
Make managing and growing your business easier with GreenRope or EmailGreen
Great software doesn't have to be expensive. Whether you choose EmailGreen for simple email marketing, or want to take it a step further with Complete CRM, both tools are designed with you in mind. Our goal is to make running your business easier. We offer the dependable tools you need at an affordable price.
Get Your Free Demo
Do you have
questions
Looking for answers? Do you have some pre-sales questions? Check out some of our information to the right.
Here are the answers to some of the most common questions we hear from our appreciated customers